WORKSHOP

Social Art Therapy
2. June 2017 - 3:00 p.m. – 7:00 p.m. - Prof. Dr. Ephrat Huss
3. June 2017 - 10:00 a.m. – 6:00 a.m. - Exploration Day


2. June 2017 3:00 p.m. – 7: 00 p.m.
In this workshop, Professor Ephrat Huss provides theoretical and practical insight into her approach to social art therapy. Ephrat Huss will elaborate on interventions especially in post-disaster situations. Furthermore, she explores the interactive relationship between personal identity and social context in visual arts through looking at the tension between figure and background as a method for depicting the reciprocal relationship between micro and macro levels of social experience.
Professor Ephrat Huss teaches at Ben-Gurion University of the Negev in the social work department, where she chairs an MA program specializing in arts therapy for social workers. She has published over 40 articles and 3 books on art therapy and arts based research within social contexts. She has also received competitive grants in this field, and is currently working on experiences of Bedouin youth in Israel using arts based methods.


References:
(2015): A Theory-Based Approach to Art Therapy: Implications for Teaching, Research and Practice, Routledge
(2012): What We See and What We Say: Using Images in Research, Therapy, Empowerment, And Social Change, Routledge


3. June 2017 10:00 a.m. – 6:00 p.m.
An Exploration Day in which we apply the learning to art forms, contexts and participants follows the workshop.
Workshop Fee 130 €
The Workshop Fee includes all Art Materials
For Application please use the PDF Download Seminar
Workshop
Social Art Therapy
Facilitator:
Prof. Ephrat Huss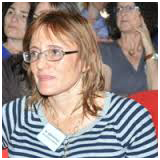 2. June 2017
3:00 – 7:00 p.m.